In Tuesday night's OEMS cross country action the boys team finished second in the league thanks to great efforts from Ryan Gavenda, Gage Kvalevog, Gunner McCreery, Chase Kline, and our top boys finisher Clay Powell who completed the 3200 meter racecourse with a time of 13:18. Leading the way for the girls team was Abigail Prewitt with a time of 15:26.
The Wonderful World of Disney swept the halls of OEMS today.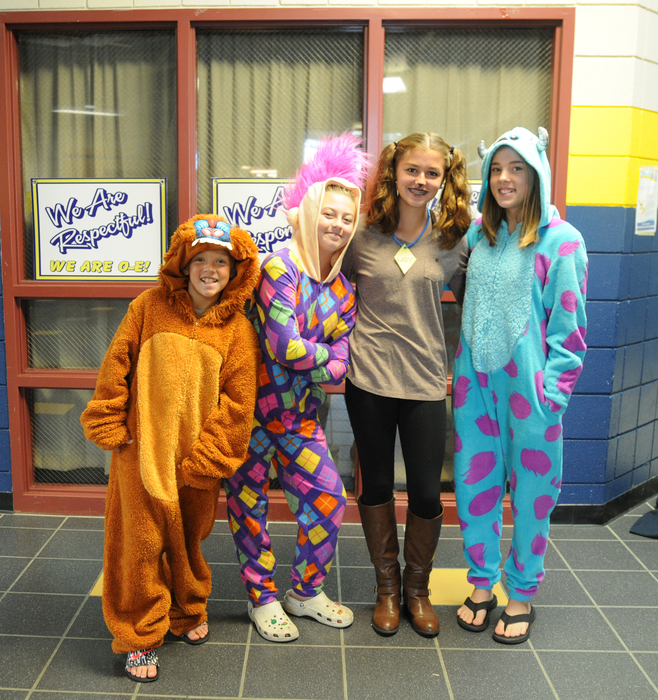 OEMS Day 2 of SPIRIT Week...You are not seeing double, It's TWIN DAY!!!!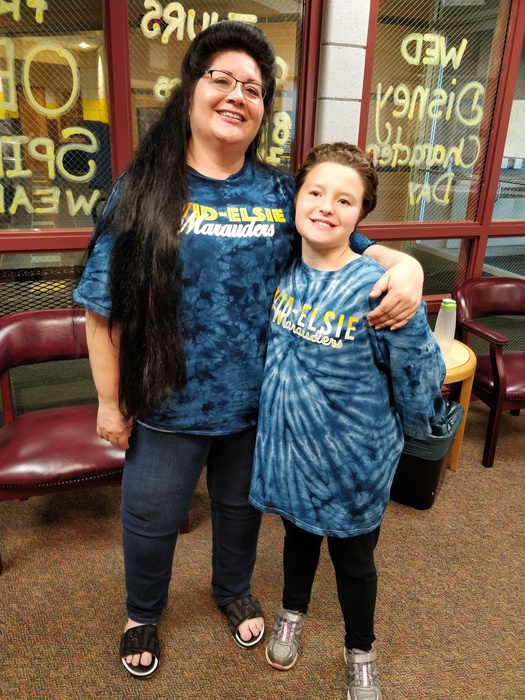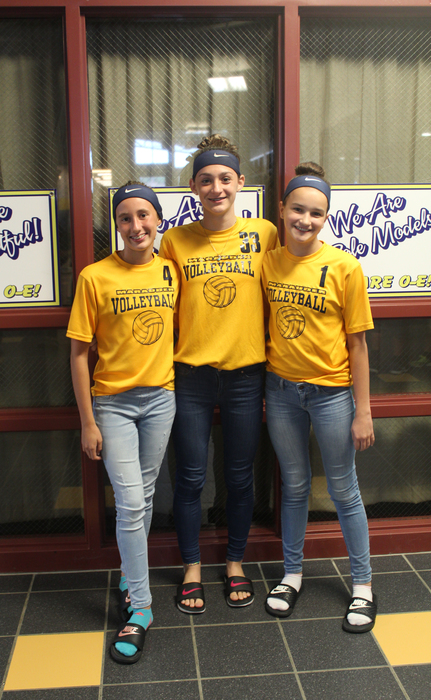 Save the Date: On Tuesday, October 23rd there will be a Family Fall Festival from 5:30-7:30 pm at Leonard Elementary. Come and join us for an evening filled with family fun! More information to come!

FROM LEONARD ELEMENTARY: Friday Sept. 28th - Popcorn Day Friday Oct. 5th - Pickle Day and PD Day - Early release 11:15 a.m.
Both 7th and 8th Grade Girls Basketball Teams brought home a W last Night. The 7th grade Lady Marauders improved to 3-0 last night with a 59-10 win over Montrose. Evalyn Cole led the way with 12 points, Ava Bates and Braeden Tokar each had ten points, and Kaitlyn Fry with 8 points. Hailee Campbell, Haylee Palus, and Sonja Ramos each had four points. Fry-dog also led the way with 5 steals while Kylie Davis and Jollee Swender led in rebounding with 4 each. The 8th grade girls got another victory last night over Montrose by the score of 39-12. It was another solid team effort by the girls and this brings their record to 3-0 this season OEMS Girls will travel to Byron on Wednesday
Ovid-Elsie Area Schools E.E.Knight Elementary School Picture Day-Wednesday, September 26th. Packets went home last week. If you would like to pre-pay for your school portrait package use this website:
www.canfieldjenkins.orderschoolpix.com
Select your school from the drop down menu, your password is PREPAY.
OEMS kicked of SPIRIT/HOMECOMING WEEK with PJ Day!!!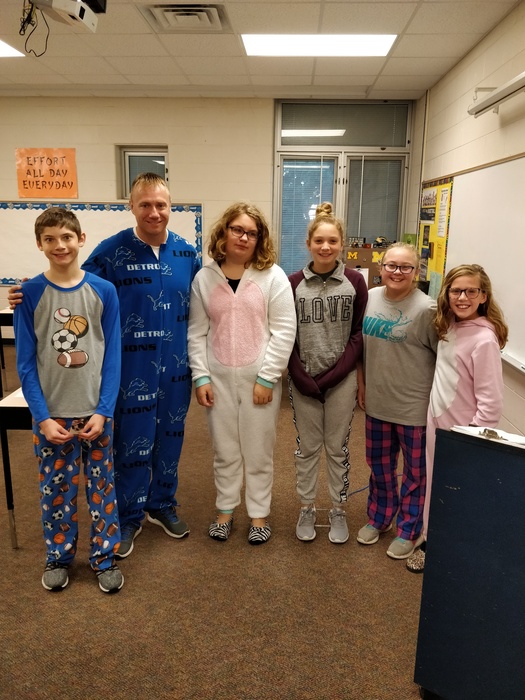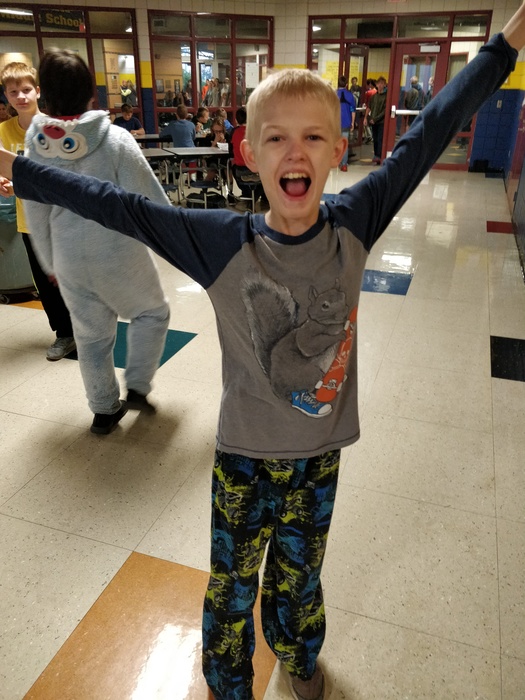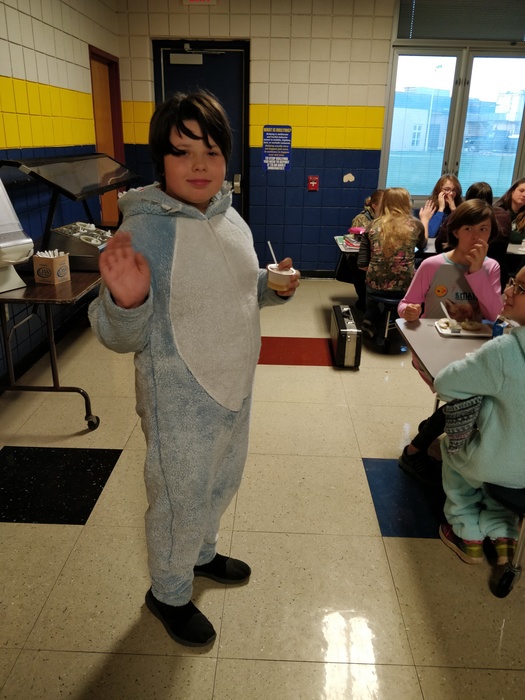 Parents and Students, this is just a reminder that the Powderpuff football game is tonight at 6:30 on the varsity field to kickoff homecoming week! Gate opens at 5:30. $5 per person- no passes allowed.
OEMS will participate is Spirit/Homecoming Week. We will be celebrating that with some fun days: Monday -PJ day , Tuesday - Twin day, Wednesday -Disney Character day, Thursday -Class color day (Class colors are 8th grade: Blue, 7th grade: Purple, 6th grade: Green), Friday -Blue and Gold Marauder day! Let's show our school pride and GO OE!
The middle school robotics team will have practice tomorrow (Thursday 9/20) from 3:10 - 4:30 in Mr. Wertz's room. In addition, there will be an important parent meeting immediately after practice from 4:30 - 5:00 in the middle school cafeteria.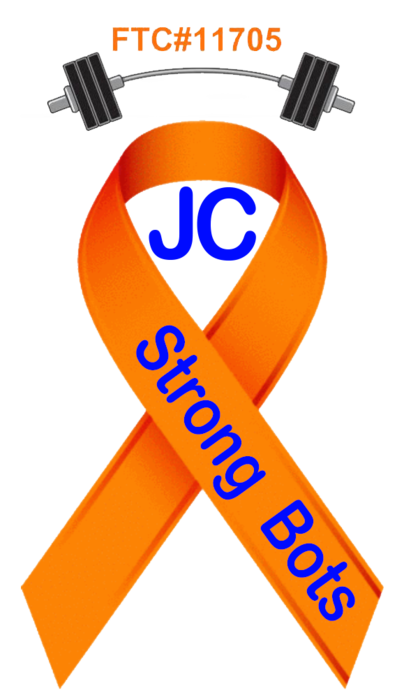 SPIRIT/HOMECOMING WEEK AT E.E.KNIGHT 9/24-9/28/2018 Mon-Favorite Team Day;Tues-Mismatch Day; Wed-Dress Your Best (picture day); Thurs-Pajama Day; Fri-Blue & Gold Day
This message is to notify everyone that Friday will be an early release day. Elementary will release at 11:15 AM and the secondary schools will release at 11:30 AM.
On behalf of the Vincent family, Ovid-Elsie Area Schools is saddened to announce the passing of 2018 graduate Carson Vincent. At this time we do not have details about his passing and we simply ask that you respect the privacy of the family as they are working through this tragedy. Grief counselors are on site today and throughout the week for staff, students and anyone else who may need assistance through this traumatic event. Visitation and funeral arrangements will be forthcoming. Our thoughts are prayers are with the Vincent family.
Attention MS Parents, This week our girls basketball starts. We encourage you to come out and support our school teams. Let's have a great week! Monday: Constitution Day 7/8 Girls Basketball at Chesaning Tuesday: Board Meeting 6:30 Wednesday: 7/8 Girls Basketball Home New Lothrop Play Rehearsals 3-5pm Friday: Blue and Gold Day OE Varsity Football at New Lothrop 7pm Upcoming Dates: Monday, September 24- 7/8 Girls Basketball Home Montrose Tuesday, September 25- Fire Drill Wednesday, September 26- 7/8 Girls Basketball at Byron Friday, October 26 End of 1st Marking Period
Leonard Picture Day, September 25th. Packets went home this week. If you would like to pre pay for your school portrait package use this website:
www.canfieldjenkins.orderschoolpix.com
Select your school from the drop down menu, your password is PREPAY.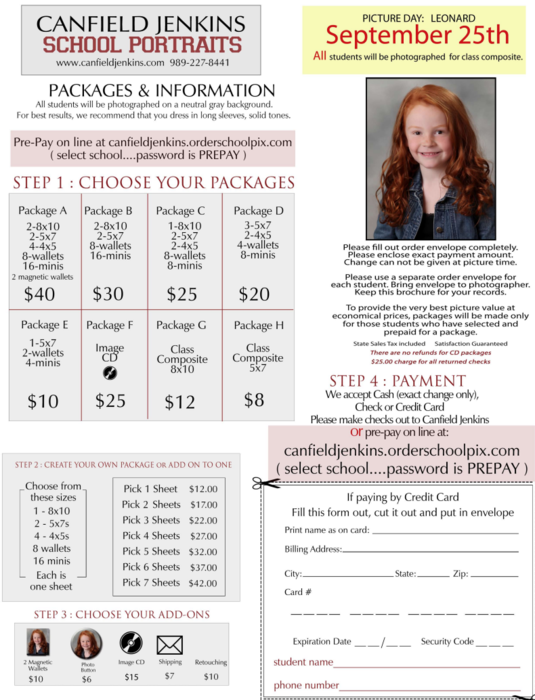 LCC's Youth Fall Programs are starting Saturday, October 20, 2018. To enroll please visit their website at
https://internal.lcc.edu/cewd/departments/youth/
and click "Register Now" under the main paragraph. You can also call us at 517-483-1415 to get assistance with registration.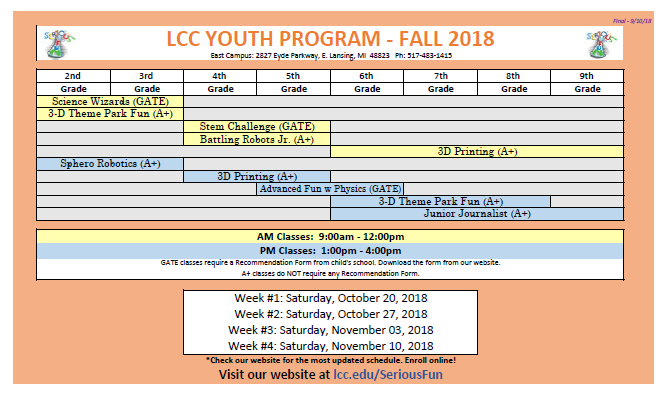 Congratulations to our OE Middle School Spirit Day winners!! Looking good in their Blue and Gold!
E.E.KNIGHT Picture Day - Wednesday, September 26th