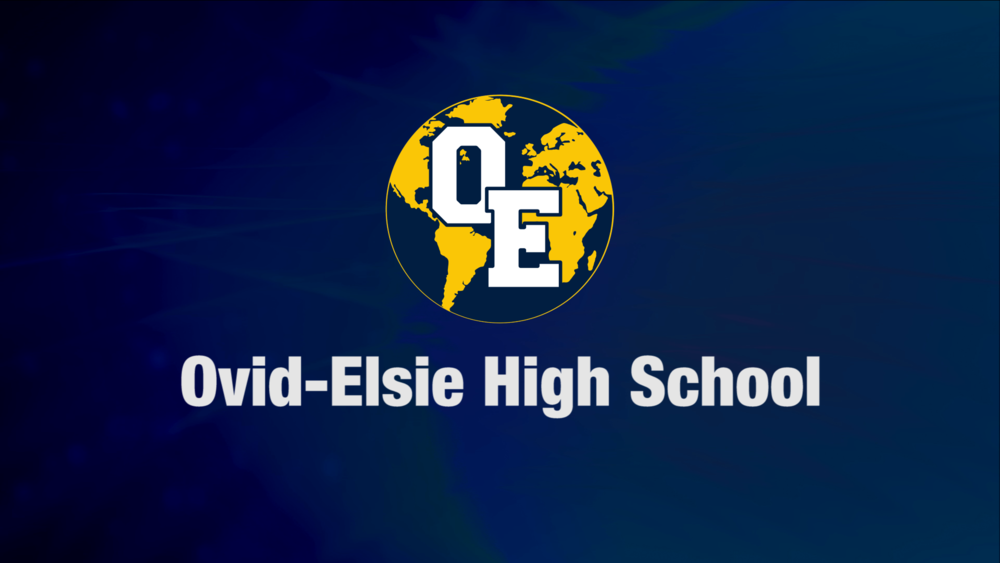 OEHS Newsletter - Week of 3/9/20
HS Office
Monday, March 09, 2020
Ovid-Elsie High School
Week of March 9, 2020
MONDAY
Charity Week - PJ Day and fundraisers - ice cream, pop and hat
Morning Meditation, 7:30 am
Prom Tickets on Sale @ lunch
Lunch Group with Mrs. Ehman during both lunches
Driver's Training (segment 1), 6:00 - 8:00 pm
Campus Life, 7:07 - 8:37 pm
TUESDAY
Charity Week - Pink out and fundraisers - ice cream, pop and hat
CCRESA Pave Your Own Way for all Career Connections Students
Student Council Meeting, 7:30 am
Prom Tickets on Sale @ lunch
Driver's Training (segment 1), 6:00 - 8:00 pm
WEDNESDAY
Charity Week - Orange Out and fundraisers - Little Caesars pizza, pop and hat
Marauder Pride Time - Advisory/Activity Schedule
Prom Tickets on Sale @ lunch
Science Olympiad, 3:10 - 4:30 pm
Driver's Training (segment 1), 6:00 - 8:00 pm
FFA Chapter Meeting, 6:00 pm
THURSDAY
Charity Week - Dress for the cure and fundraisers -bake sale, pop and hat
Student Challenge in Woodshop, 7:20 am
Dale Carnegie Club Meeting, 7:30 am
Prom Tickets on Sale @ lunch
OEHS Parent-Teacher Conferences, 5:00 - 7:00 pm
Driver's Training (segment 1), 6:00 - 8:00 pm
FRIDAY
Charity Week - Blue & Gold Day and fundraisers - bake sale/leftovers, pop and hat
Morning Meditation, 7:30 am
SATURDAY
SUNDAY
Looking Ahead
Friday, March 20, Dodgeball Tournament, 6:00 pm

March 30th - April 3rd, Spring Break

Friday, April 10th, No School

Friday, April 17th, Early Release Day

Friday, April 17th, High School play for students

Friday, April 17th and Saturday, 18th - High School Play - 7:00 pm

Saturday, April 25th, Prom on Michigan Princess Riverboat

Tuesday, May 5th, AP Calculus Test @ Ovid Township Hall

Wednesday, May 6th Band/Choir Concert

Friday, May 8th, Carson Vincent Memorial 3-on-3 Basketball registration deadline

Friday, May 8th, APUSH Test @ Ovid Township Hall

Friday, May 8th, Early Release Day

Wednesday, May 13th, AP Language & Composition Test @ Ovid Township Hall

Thursday, May 14th, Seniors Last Day

Monday, May 25th, No School for Memorial Day

Friday, May 29th Graduation, 7:00 pm

Sunday, May 31, Carson Vincent Memorial 3-on-3 Basketball Tournament

Wednesday, June 3rd, Last Day of School for Students
Other Matters of Interest
Show your Marauder & JC Pride! PuraVida bracelets on sale for $6. The order form is here

Driver's Training classes are being offered at OEHS. More info here.

Gold Cards for spring sports are available in the office for students with a current physical on file. Physical forms are located in the office.

Carson Vincent Memorial 3-on-3 Basketball Tournament sign up sheets are here & in the office

Sophomore Class is selling suckers for St. Patrick's Day!! See a class officer, Mrs. Ehman, or Ms. White for more details!
Office Information & Forms
Any junior or senior participating in a college visitation may pick up and submit a College Visitation form to the office prior to the visit. One visit may be excused as a student activity.

If you are aware of an upcoming absence, please have your student fill out and submit to the office a Pre-Arranged Absence form prior to the absence.

If your student takes medications during the day, please have them pick up a Medication Authorization form from the office. The form is necessary for ANY medication (including over the counter) regardless of if the office holds it or student is allowed to possess it. The form requires both a parent and a doctor's signature.
Student Services
Seniors - Local scholarships are now available. Please check your email frequently! All of the scholarships are available on the school website. www.ovidelsie.org or you can stop in to Student Services to pick up a paper copy.

New LCC Dual Enrollment class has been added for Fall 2020-2021 school year. Here is the following updated list of the dual enrollment classes.
Fall Spring
CHEM125 Basic Chemistry GEOG221 Physical Geography
COMM120 Dynamics of Communication HUMS120 Masterpieces of Art & Music
ENGL121 Composition I PSYC200 Introduction to Psychology
SOCL120 Introduction to Sociology MATH120 College Algebra
COMM130 Fund of Public Speaking (9 grade only)
If you need to make a change to your schedule request, please stop in to our office before March 27th.
Sophomore/Juniors - If you are interested in participating in a CCRESA course next school year, your paper/pencil application and online registration for CCRESA is due by March 20th.

Lunch Group - Mrs. Ehman is offering an opportunity for students to meet as a group during lunch once a week to discuss topics like self-esteem, self-worth, self-confidence, anxiety, depression, etc. The goal is to learn how to increase esteem, worth, and confidence while decreasing anxiety and depression in a group format, learning from myself and from your peers. If this is something that you're interested in, please stop in at Student Services.