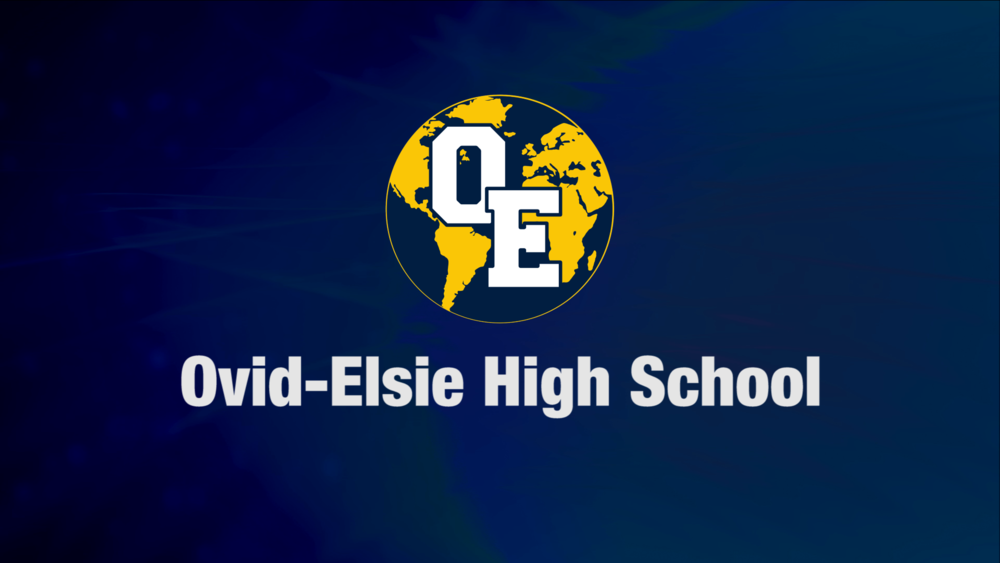 Ovid-Elsie High School News 2/11/19
Becca Powell
Monday, February 11, 2019
Ovid-Elsie High School
Week of February 11, 2019
MONDAY
TUESDAY
*Boys Basketball @ Montrose. Frosh @ 4pm, JV @ 5:30, Varsity @ 7
*Girls Basketball @ Home vs. Montrose. JV @ 5:30, Varsity @ 7 (Military Tribute Game)
*Clarinet Sectional Practice, 3:10-4:10
WEDNESDAY
*6:00 rescheduled FFA meeting, HS cafeteria
*Wrestling Team Regionals, Location & Time TBA
*Full Band Practice, 3:10-4:10
*Magic Club, 3:00-5:00
THURSDAY
Happy Valentine's Day
*Girls Basketball @ Mt. Morris - JV @ 5:30, Varsity @ 7
*Boys Frosh Basketball @ Pewamo-Westphalia @ 4:30
*FFA Leadership Regionals at Byron H.S. @ 4:00
*Play rehearsal for "Almost, Maine". 3:00-4:00
*Percussion Sectional Practice, 3:10-4:10
FRIDAY
*No School / Mid-Winter Break
*Boys Basketball @ Home - Frosh @ 4, JV @ 5:30, Varsity @ 7
*Robotics will be revealing this year's robot at halftime of the varsity game.
*Magic Club, 3:00-5:00
SATURDAY
*Varsity Bowling @ Richfield Lanes @ 11 am
*JV Bowling @ Clio Bowling Alley @ 9:30 am
*Varsity Cheer Districts @ Chesaning - 4:00
*Wrestling Individual Regionals, Location & Time TBA
SUNDAY
Looking Ahead
No School Monday, February 18th.

Full Band Practice Tuesday, Feb. 19, 3:10-4:10

Alto Sax/French Horn Sectional Practice Wednesday, Feb. 20th, 3:10-4:10

Full Band Practice Thursday, Feb 21st, 3:10-4:10 & Little Caesar's Delivery

Pre-Festival Band Concert, 7th-12 grade, Tuesday, Feb. 26 @ 7 pm

Early Release Friday, March 1st

Band Festival @ Perry H.S., Sat. March 9th

Parent Teacher Conferences Thursday March 14th @ 5:30

Academic Letter Ceremony Monday April 1 @ 10:30

Prom Saturday, May 4th

Senior Tea is tentatively scheduled for May 13th.
Other Matters of Interest
The MSU Science Festival is excited to offer FREE educational programming for K-12 students both on and off MSU's campus during the week of March 25 – 29, 2019. A wide variety of programs are still open for all ages, so sign up today on our website, here!

NHS dues of $5 need to be turned in to Cayleb Carmen or Mrs. M. Ott.

Freshman class dues of $10 need to be turned into Ms. White.

Seniors reminder to pay your class dues! Check with Mrs Horak for how much you owe.

2019 yearbooks on sale now with pricing of $65.00 until May 24th, 2019.

Elsie Dairy Festival Royalty Applications are in the office and due by March 8th.