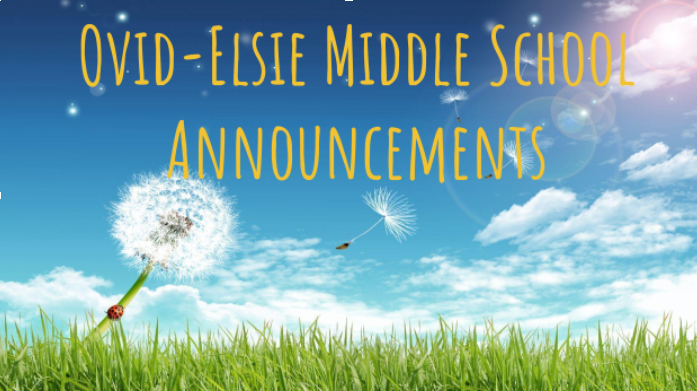 OEMS Announcements Week of 05/17/2021
Claire Holley
Monday, May 17, 2021
Announcements Monday 05/17/2021:
Good morning staff and students! Welcome to Ovid-Elsie Middle School where we are inspiring life-long learners to achieve their full potential and excel in a changing world. Today is Monday May 17th, 2021. Please stand for the pledge…..
For 8th grade girls who are interested in volleyball in high school please attend a meeting this Friday at 7:15am in the high school cafeteria.
Any 8th grade boys interested in soccer as Freshmen please sign up in the MS office.
It's a brand new week full of possibilities! Now prepare to be Motivated by author Nora Roberts in the Motivational Monday Minute!
Have a marvelous Monday everybody!
Announcements Tuesday 05/18/2021:
Today is Tuesday May 18th, 2021.
Happy Birthday today to Katelyn A. Have a wonderful birthday Katelyn!
Good luck with the testing today everybody. We will test until 10am and then we will be running a 2 hour delay schedule for the rest of the day.
Have a terrific Tuesday everybody and remember it may not be easy but it will definitely be worth it!
Announcements Wednesday 05/19/2021:
Today is Wednesday 19th May, 2021.
And now it's time for On This Day In History:
Fact: And it's a gruesome one -
On this day in 1536 Anne Boleyn, the 2nd wife of Henry VIII was beheaded at the Tower of London. Fun trivia if you ever need to know the fate of Henry's 6 wives here's the rhyme - divorced, beheaded, died, divorced, beheaded, survived and the only reason Catherine Parr survived is because Henry died before he could kill her. Lovely chap!
Have a wonderful Wednesday everybody! We're halfway there so let's make the rest of this week really count!
Announcements Thursday 05/20/2021:
Today is Thursday May 20th, 2021.
We have testing again today and a 2 hour delay schedule from 10am.
Happy Birthday today to Lexis N and Logan C and the very awesome Mrs Hewitt!! Hope that you all have a fantastic birthday guys!
Attention all 8th Grade Boys! There will be High School Football Sign-ups in Room 105 today during your lunch. Please see Coach Hufnagel if you have any questions or can't make the meeting but would still like to sign-up.
And now it's time to get our Science on with the Science Facts of the Week
Fact: A typical cumulus cloud weighs as much as 100 elephants. How does it stay afloat? Well the weight isn't concentrated into 100 elephant-sized particles but among trillions of really tiny water droplets spread out over a really big space. As long as those droplets don't come together to get bigger and heavier, they stay up there in the cloud but if they do…..well rain people!
Have a tremendous Thursday everybody! Let's make today RIDICULOUSLY amazing!
Announcements Friday 05/21/2021:
Today is Friday May 21st, 2021.
Happy Birthday today to Gracelynn B & Alison H. Layne M, Clarissa B, Daniel T, Justine M, and Tayetumn W are all celebrating their birthdays this weekend. Have a sensational birthday guys!
Your Student Council has some great events coming up for the end of the school year. Fliers will be handed out in your first hour so take a look!
And now it's time for the best time of the week, Mrs Holley's Chuckle Time:
Question: What happens when you chug 8 sodas?
Answer: You burp 7-Up.
Have a fabulous Friday everybody! Stay Frosty!