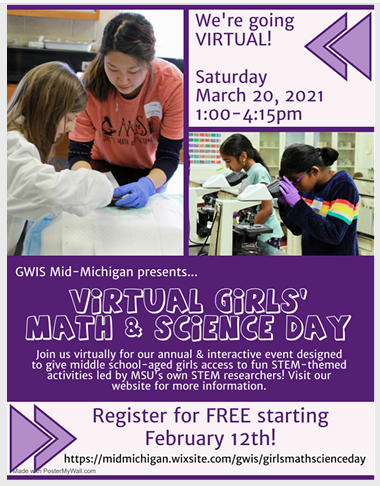 MSU Virtual Girls' Math & Science Day
Claire Holley
Thursday, January 21, 2021
The Mid-Michigan chapter of Graduate Women in Science is hosting our first Virtual Girls' Math and Science Day on Saturday, March 20th, 2021 from 1:00-4:15 pm EST. This is a fantastic opportunity for middle school-aged girls to participate in STEM demonstrations led by some of MSU's enthusiastic and knowledgeable graduate students and researchers. The day for each participant will consist of a keynote speaker talk and four individual STEM-themed activities.
Girls must register for the event using the following link: https://midmichigan.wixsite.com/gwis/girlsmathscienceday
Registration opens on February 12th and is FREE of cost!