Class of 2020 Bricks
HS Office
Friday, December 04, 2020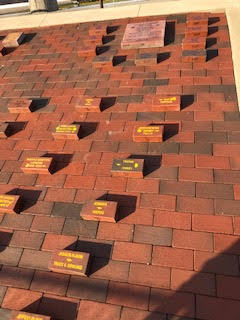 Class of 2020 Students and Parents,
It is with great JOY that I let you know that the "Class of 2020 Brick Memorial" is designed and being set at the Mark O'Donnell Football Stadium as I type... I have been out there a couple of times over the last couple of days meeting with Larry Bosom (Five-Star Masonry). He did not think he'd be able to get this in for us until next spring. He called me the other day and said, "It's a miracle... but I have some time and the weather is supposed to be good!" Indeed, maybe it is our Christmas miracle.
We are ending 2020 on a positive note... with your class being recognized... its celebrations and struggles are within. I am including a couple of photos. Enjoy.
The Memorial should be finished by the weekend. Go out and find your brick and "read" your story...
Ms. Blank