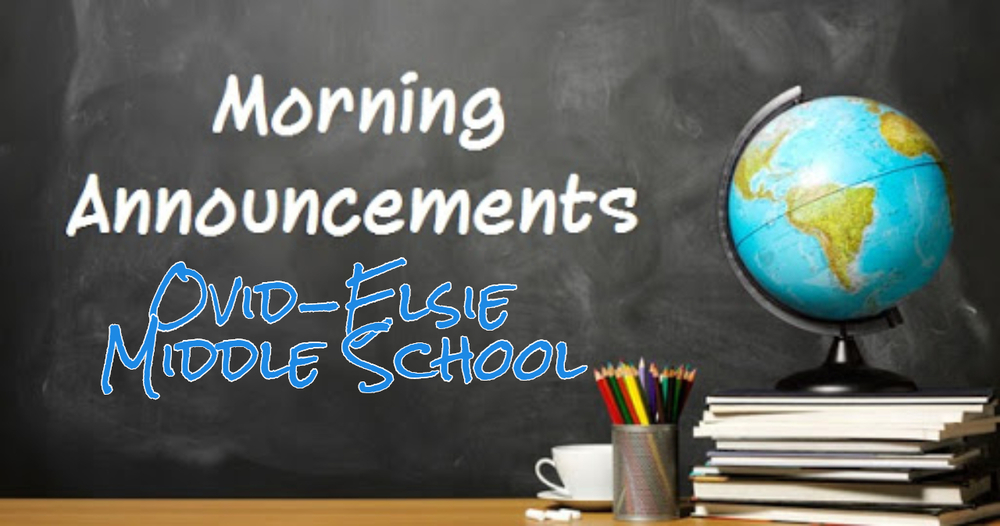 OEMS Announcements Week of 11/02/2019
Claire Holley
Thursday, November 05, 2020
Announcements 11/05/2020
Good Morning staff and students! Welcome to Ovid-Elsie Middle School where we are inspiring life-long learners to achieve their full potential and excel in a changing world. Today is Thursday November 5th, 2020.
Unfortunately we've had to end our coin war a bit early. We'll be counting the money today and you will hear the winning team tomorrow morning. Thanks to Mrs Willbanks and the Student Council for putting this event to benefit the Elsie Food Bank together!
And now it's time for our weekly Science Fact:

Did you know that there are 8 times as many atoms in a teaspoonful of water as there are teaspoonfuls of water in the Atlantic ocean!! A teaspoon of water contains 2 x 1023 water molecules.
Finally just a wee reminder that tomorrow is an early release day so be prepared to be set free at 11:30am.
Have a terrific Thursday! Let's make today ridiculously amazing!
Announcements 11/06/2020
Today is Friday November 6th, 2020.
It's that time of the week again, Mrs Holley's Chuckle Time!!!

Why do fish live in salt water?

Because pepper would make them sneeze.
The results from the MSU/UofM coin war are in! Thanks to your efforts, we raised a grand total of $96.70 for the Elsie food pantry. Student Council will throw in a few bucks of their own money to make it an even $100. Boy there were a lot of dollar bills and even a 20 in the UofM container to take points AWAY from them, therefore the winning team was MSU!!!! MSU brought in about $30 in coins with only $12 cash put in to take away points, while UofM brought in $13 worth of coins and had a WHOPPING $42 worth of cash put in to take away points. Those MSU fans must be serious!! Thanks to all those who donated.
Have a fabulous Friday! Let's make this the greatest ½ day EVER!!!