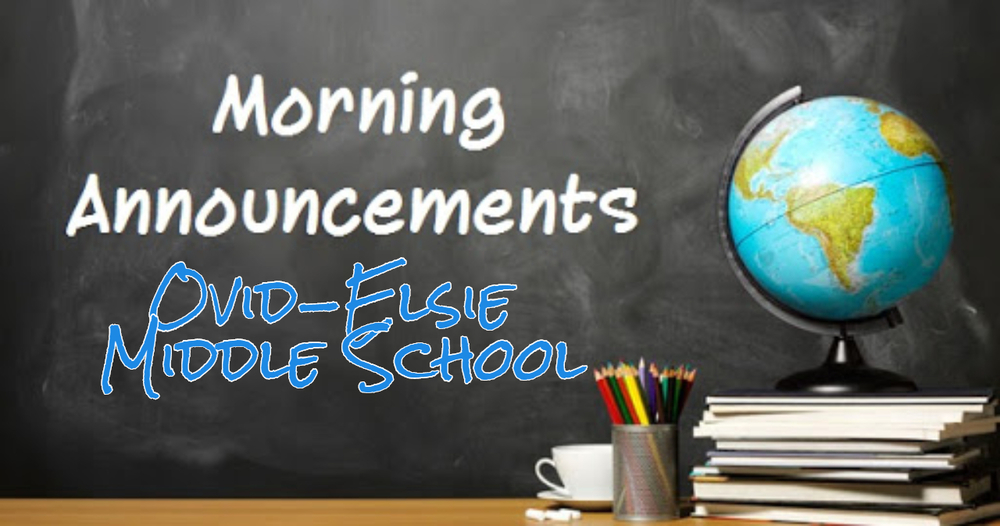 OEMS Announcements Week of 10/12/2020
Claire Holley
Monday, October 12, 2020
Middle School Announcements for the week of 10/12/2020-10/16/2020
Good Morning staff and students! Welcome to Ovid-Elsie Middle School where we are inspiring life-long learners to achieve their full potential and excel in a changing world. Today is Monday October 12th, 2020.
SPIRIT WEEK!!! This Friday is Homecoming. Students can participate in Spirit Week from home or in school. You can upload pictures of your school appropriate spirit wear to padlet, which has been shared via email with students.

Tuesday 13th: Pajama Day
Wednesday 14th: Support a Cause Day (what cause, organization, charity, or movement do you support?)
Thursday 15th: Decades Day (6th grade- the 60's, 7th grade- the 70's, 8th grade- the 80's)
Friday 16th: Blue/Gold Day (Homecoming!)

Reminder: for all spirit week days, we cannot share materials, so please come to school ready for the day. Do not plan on getting ready in the bathroom or sharing things with a friend.
There are still a few extra yearbooks from last year available to purchase; they are $40 cash--no checks please, and can be picked up in the middle school office.
MS Wrestling will begin next Monday October 26th from 3:30-5:30PM. Practices are Monday through Friday, unless school is closed. Meet in the middle school gymnasium every day before practice. Sign up is in the MS office.
FFA Membership Applications are available in the office. Any enquiries should be made to Ms. Hoffman.
Let's make this week amazing! Have a marvelous Monday everybody!
Announcements 10/13/2020
Today is Tuesday October 13th, 2020.
Tomorrow is Online Wednesday but remember that you can still show your support for your favorite cause in your online meets. Come back to school Thursday wearing your best 60s, 70s and 80s style.
7th and 8th grade Lady Marauders took on Byron last night in an MMAC showdown. The 7th grade took flight early and often in route to a decisive victory.
The 8th grade ladies also clipped the Eagles in the second game of the double header, taking a commanding lead early en route to a 39-25 victory.
The 8th grade is back in action on Wednesday at Mt. Morris, with the 7th grade off until next Monday.
We will be having another Teacher Trivia this afternoon so get ready to learn some surprising things about your MS staff!
Have a terrific Tuesday!
Announcements 10/15/2020
Today is Thursday October 15th, 2020.
Homecoming is tomorrow so let's finish out Spirit Day strong with a Blue and Gold Day to show your OE Pride! No face paint or hair color please.
If you have already turned in an FFA application please come to the MS office after announcements.
The 8th grade Lady Marauders traveled to panther country last night and plundered away a lopsided victory that saw every Lady Marauder make it in the scoring column. Great effort and tenacity led the way to an early lead that would only expand as the game progressed. This dub brings the 8th grade to 4-2 on the season with two huge games next week against league leaders Montrose and New Lothrop on Monday and Wednesday.

7th grade is also back in action on Monday against Montrose.
Reminder to have your first hour students complete the Me and My Feelings survey today. This can be found in the google middle school counseling classroom. Please also include the MVP students for this survey.
And now in today's tectonic plate news: Did you know that Hawaii moves almost 3 inches closer to Alaska every year!!! Currents in the Earth's upper mantle keeps the tectonic plates in constant motion. Don't all rush to Alaska for a luau though because the plates' pace is comparable to the rate at which our fingernails grow.
Happy Thursday Everybody!
Announcements 10/16/2020
Today is Friday October 16th, 2020.
Homecoming is tonight! Even if you can't watch the game in person you can still support your team by listening on the radio.
7th & 8th grade Volleyball tryouts are Monday 26th-Wed 28th from 3:15-5pm. Sports Physicals or MHSAA questionnaires are required for participants. Masks are required for all during practices. Sign ups are online at https://forms.gle/6vsY69MMu1fntWT76 , look for the link in the MS Announcements on the OE website, Facebook and Schoology.
A reminder that wrestling sign ups and informational flyers are in the office. The first practice is on the 26th. Wrestlers will meet in the MS gym.
Make sure you fill out the Student Feedback survey sent to you via email by Ms. Delo. We want your input on what is working well, and what challenges you are facing in this new learning environment.
And Mrs Holley's Chuckle Time is back by popular request…...ok 1 person requested it...good enough!

Question: Why don't you ever see elephants hiding in trees?

Answer: Because they're really, really good at it!
Have a great Friday and remember it's always a good day to have a good day!