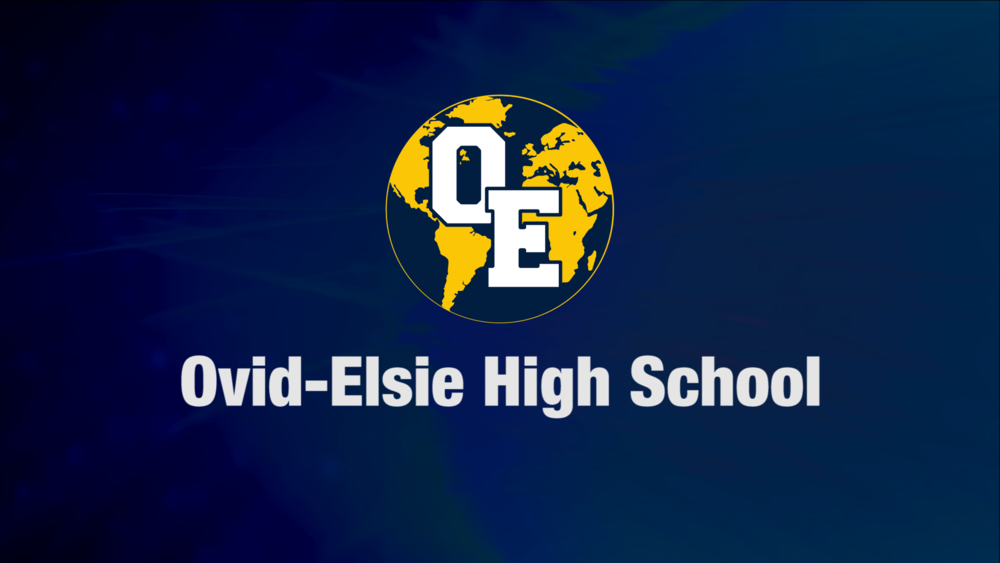 OEHS Newsletter - Week of 2/24/20
HS Office
Friday, February 21, 2020
Ovid-Elsie High School
Week of February 24, 2020
MONDAY
FFA Week - AMERICA DAY ($1 for hats to benefit the Blacker family)
Morning Meditation, 7:30 am
MRS Meet & Greet in the Information Center, 5:00 - 6:00 pm
LCC Hums 120 @ CCRESA, 5:00 - 6:50 pm
Girls JV Basketball @ St. Johns High School, 6:00 pm
Girls JV Bowling @ Holly Lanes, 6:00 pm
LCC Geog 221 @ CCRESA, 7:00 - 9:00 pm
Campus Life, 7:07 - 8:37 pm
TUESDAY
FFA Week - CAMO DAY ($1 for hats to benefit the Blacker family)
Student Council Meeting, 7:30 am
FFA Bake Sale @ Lunch
Boys Freshman Basketball, Home vs. Laingsburg, 4:00 pm
Girls JV Basketball, Home vs. Webberville, 5:30 pm
Boys JV Basketball @ Webberville High School, 5:30 pm
Co-Ed JV Bowling @ Grand Blanc Lanes, 6:00 pm
Girls Varsity Basketball, Home vs. Webberville, 7:00 pm
Boys Varsity Basketball @ Webberville High School, 7:00 pm
WEDNESDAY
Marauder Pride Time - Advisory/Activity Schedule
FFA Week - COLLEGE DAY ($1 for hats to benefit the Blacker family)
FFA Bake Sale @ Lunch
Science Olympiad Practice, 3:10 - 4:30 pm
MarauderBots 5234 Programming Team Meeting, 6:00 - 8:00 pm
Boys JV Bowling @ Grand Blanc Lanes, 6:00 pm
Pre-Festival Band Concert, 6:00 pm
Benefit Basketball Game for Justin Cole, 7:00 pm
THURSDAY
FFA Week - FLANNEL DAY ($1 for hats to benefit the Blacker family)
Student Challenge in Woodshop, 7:20 am
Dale Carnegie Club Meeting, 7:30 am
FFA Bake Sale @ Lunch
Boys Freshman Basketball, Home vs. New Lothrop, 4:00 pm
Girls JV Basketball, Home vs. New Lothrop, 5:30 pm
Boys JV Basketball, Home vs. New Lothrop, 7:00 pm
FRIDAY
FFA Week - NATIONAL BLUE & CORN GOLD DAY ($1 for hats to benefit the Blacker family)
Morning Meditation, 7:30 am
Girls Varsity Basketball @ New Lothrop High School, 5:30 pm
Boys Varsity Basketball @ New Lothrop High School, 7:00 pm
SATURDAY
Band Festival @ Perry High School, 1:25 pm
SUNDAY
Looking Ahead
Thursday, March 12th, Parent/Teacher Conferences, 5:00 - 7:00 pm

March 30th - April 3rd, Spring Break

Friday, April 10th, No School

Friday, April 17th, Early Release Day

Friday, April 17th, High School play for students

Friday, April 17th and 18th - High School Play - 7:00 pm

Saturday, April 25th, Prom on Michigan Princess Riverboat

Wednesday, May 6th Band/Choir Concert

Friday, May 8th, Cason Vincent Memorial 3-on-3 Basketball registration deadline

Friday, May 8th, Early Release Day

Thursday, May 14th, Seniors Last Day

Monday, May 25th, No School for Memorial Day

Friday, May 29th Graduation, 7:00 pm

Sunday, May 31, Carson Vincent Memorial 3-on-3 Basketball Tournament

Wednesday, June 3rd, Last Day of School for Students
Other Matters of Interest
Prom Tickets on sale for $50 during lunch starting the week of March 2nd.

Show your Marauder & JC Pride! PuraVida bracelets on sale for $6. Order form is here

Driver's Training Segment 1 is being offered at OEHS, March 6-19. More info here.

Golf, Girls Tennis and Baseball Sign-up Sheets are in the office.

SENIORS! Local scholarships come out on March 1st. If any other scholarships come in the meantime, you will be notified by email. Please keep checking your email daily.

Carson Vincent Memorial 3-on-3 Basketball Tournament sign up sheets are here & in the office
Office Information & Forms
Any junior or senior participating in a college visitation may pick up and submit a College Visitation form to the office prior to the visit. One visit may be excused as a student activity.

If you are aware of an upcoming absence, please have your student fill out and submit to the office a Pre-Arranged Absence form prior to the absence.

If your student takes medications during the day, please have them pick up a Medication Authorization form from the office. The form is necessary for ANY medication (including over the counter) regardless of if the office holds it or student is allowed to possess it. The form requires both a parent and a doctor's signature.