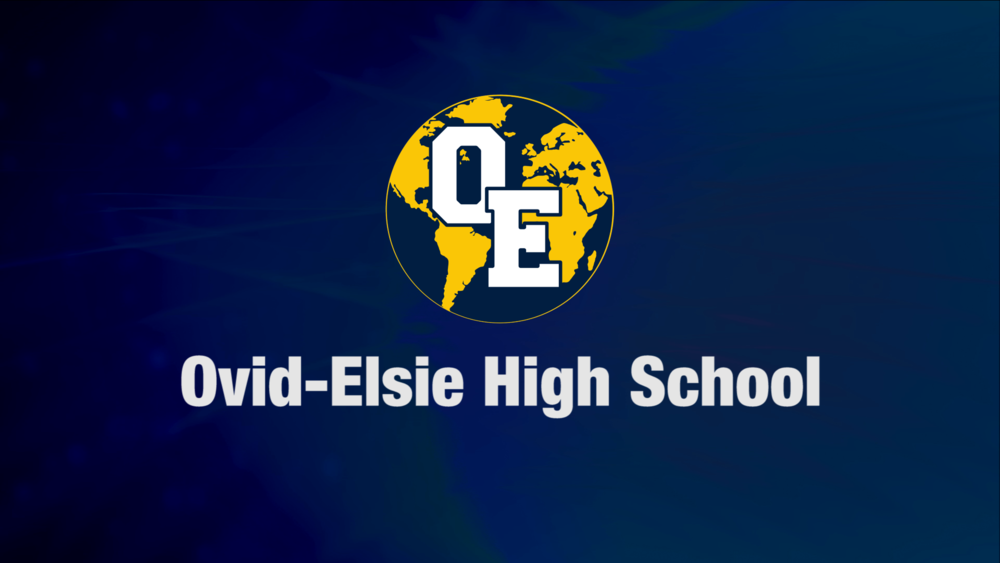 Ovid-Elsie High School News 4/8/19
Office of Mr Tokar
Monday, April 08, 2019
Ovid-Elsie High School
Week of April 8, 2019
MONDAY, 8th
*HUMS120 Face-to-Face Meeting @ CCRESA, 5:00-6:50
*GEOG221 Face-to-Face Meeting @ CCRESA, 7:00-9:00
*Play Rehearsal in student lounge, 3:00-5:00
*JV Baseball & Softball @ Mt. Morris, 4:00
*Varsity Baseball & Softball home vs. Mt. Morris @ 4:00
*Girls Varsity Soccer @ Mt. Pleasant, 5:00
TUESDAY, 9th
*PSAT/SAT Testing for freshmen, sophomores and juniors (juniors dismissed after testing)
*Job Shadowing/Interviews for Seniors (wear appropriate dress, bring resume)
*Play Rehearsal in student lounge, 3:00-5:00
*Girls Varsity Tennis @ Durand, 4:00
*Girls Varsity Soccer @ Saginaw Arts & Science Academy, 4:00
*Girls Varsity Lacrosse @ Holly, 6:00
*Boys Varsity Lacrosse @ home (R. Gumaer Park, Ovid), 6:00
WEDNESDAY, 10th
*ACT Testing for juniors 8:00 am -12:00 pm (dismissed after testing)
*Play Rehearsal in student lounge, 3:00-5:00
*FFA Regional Officer Interviews in Perry, 4:00-5:00
THURSDAY, 11th
*M-STEP Testing for juniors, 8:00-10:00 am (resume classes upon completion)
*Play Rehearsal in student lounge, 3:00-5:00
*Dual Enrollment Information Night in Information Center, 6:30
*Girls Varsity Tennis @ Mt. Morris, 4:00
*Girls Varsity Soccer @ home vs. Lakeville, 4:30
*Girls Varsity Lacrosse @ home (R. Gumaer Park, Ovid), 6:00
*Boys Varsity Lacrosse @ Holt, 6:00
FRIDAY, 12th
*Day of SIlence
*State FFA Career Development Events (AG Skills Contests) @ MSU
SATURDAY, 13th
Varsity Baseball & Softball - Tournament @ Williamston, 9:00
SUNDAY, 14th
Looking Ahead
Career Connection Information Night, April 17, 6:00

LCC Orientation for the 2019-2020 school year, April 18, 6:00

Early Release Day, Friday April 19th.

MI Career Quest Field Trip is April 26. Permission forms are due to Mrs. Ehman by April 18 (no exceptions). Remember to bring money for lunch that day.

HS/MS Play "Almost, Maine" Friday, April 26th and Saturday, April 27th @ 7:00

OE Awareness and Change School Swap with Waverly High High School, May 1 & 2.

Prom Saturday, May 4th

Senior Awards/Tea is tentatively scheduled for May 13th.

The OLOT will be given May 3 @ 12:00. See Mrs. Ehman to sign up. You must sign up to take the test.
Other Matters of Interest
Freshmen that ordered a 2017-18 OEMS yearbook can see Mrs. Powell in H.S. office for pick up.

Freshman class dues of $10 need to be turned into Ms. C. White.

Seniors - reminder to pay your class dues! Check with Mr Belill for how much you owe.

2019 yearbooks on sale now with pricing of $65.00 until May 24th, 2019.

Forms for the 3-on-3 basketball tournament supporting the Carson Vincent Memorial Scholarship Fund are available for pick up in the high school office and due no later than May 19th. The 3-on-3 will take place on June 9th here at the high school & middle school.